Objects
Viewing Record 1 of 1
Switch Views:
Lightbox
|
Image List
|
List
The Cake Thief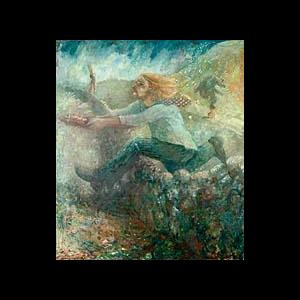 Collection
: Gray's School of Art Collection
Object Type
: Painting
Artist/Maker
: McGlynn, Donna
Date
: 1995
Media/Materials
: Oil on board
Dimensions
: 130 x 152 cm
Classification
: Painting
Description:
Figure composition featuring a bearded man fleeing from a swarm of bees . In the distance a bear can be seen riding a unicycle.

Artist statement:

I am interested in myth and folklore as subject matter. These old stories can be used as a parallel between contemporary human values and those of the past
– they suggest a sense of communion with our history while at the same time serving as a metaphor to depict the realities and problems of modern life.

In my work I try to make sense of the times we live in by drawing on myth and folklore to lay bare the human condition. We all need to tell our story, we all need to cope
with life's problems, and we all need help in our passages from birth to life and then to death.

Mythology has to do with human experience which can sometimes be painful, and it is this shared human experience I am trying to describe.
Object Number
: ABDRG10020