Objects
Viewing Record 16 of 35
Previous Record
Next Record
Switch Views:
Lightbox
|
Image List
|
List
Luthiers Workshop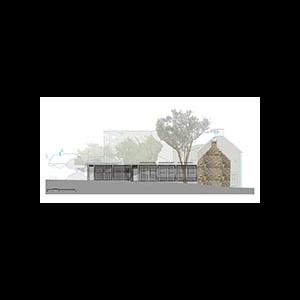 Collection
: School of Architecture Collection
Object Type
: Architectural Drawing
Artist/Maker
: Mennie, Jonathan
Date
: 2010
Media/Materials
: DVD disc
Awards
: RGU Architecture Purchase Award
Description:
This project involved creating a work and retail space for a 3 person collaboration of violin makers, also known as luthiers, from a Grade III listed sandstone coach house and back garden in St Andrews, Fife.

The skill of the Luthier is one of careful precision, delicate touch and a mastery of understanding the material. The manipulation of the wood, from rough sawn wedges through to the highly finished violins and cellos, can take a lifetime to perfect and is a craft to be respected. The processes involved in creating a violin is a direct influence on my design; When making a violin, wedges of timber are cut from a tree trunk, sanded down and then glued together to form the main body of the instrument. The new block of timber is then carved hollow, and given coatings of finish to give a highly crafted end product.
The inner floors and walls of the old coach house are stripped out to leave a double height space and exposed rafters into which a timber insert is placed. It effectively acts as a giant piece of furniture and provides a multitude of areas in which to test the stringed instruments, such as a soundproofed room and an open balcony similar to a minsters gallery. One wall is left unplastered, leaving the inner sandstone wall exposed and creating a focal backdrop.

Leading from the retail space is an external corridor that passes behind a screen of stacked through-and-through cut timber held in place by wires suspended from a roof overhang. The exterior face of the timber is left rough, retaining the bark and moss that existed when the timber was cut. The interior face is sawn, and these stacks hint to the transition the timber makes at the hands of the luthier. The spaces created between the stacks work together with roof lights to provide a delicate light to the workspace behind. Wood stores and a small residence face onto a small private courtyard and continue the idea of the timber stacks.

The building as a whole is sensitive to the surroundings and its scale, portraying an almost untreated natural facade to counteract the visual impact of a new build.

This project was awarded the Rob Hunter prize which is to a third year student every year to commemorate the life and work of the architect Rob Hunter. Rob had an architectural practice in Edinburgh and taught at the University's Scott Sutherland School of Architecture and Built Environment as a studio tutor for many years.
Object Number
: ABDRG2010.534
Related Media