Objects
Viewing Record 1525 of 2859
Previous Record
Next Record
Switch Views:
Lightbox
|
Image List
|
List
Trouser Suit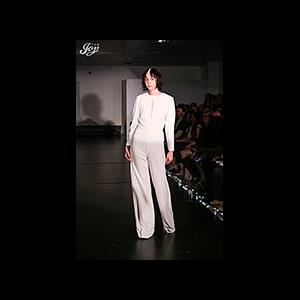 Collection
: Gray's School of Art Collection; Gray's School of Art Design Collection
Object Type
: Fashion
Artist/Maker
: MacLeod, Debbie
Date
: 2013
Media/Materials
: wool crepe
Awards
: RGU Fashion Design Purchase Award
Description:
Trouser Suit belonging to the "Persimmon, A Selective Colour" collection.

White wool crepe jumpsuit, slit on the chest and on the back of the arms at elbow. Wide leg bottom-half with pressed seam down the centre of the leg.

(See also ABDRG2013.54.2)
Artist's statement:
"A sleek, modern collection with Op Art-inspired block colouring using black, white, grey and orange as key colours. Visually, I will be taking inspiration from Modernist Architecture for shape and cut as well as capturing my own brand by focusing on key designers who I strive to be like; such as Céline and Stella McCartney, designers that I have always respected & admired. My ideal woman becomes confident through her clothes, she's warm and inviting letting her modernist straight lined garments show her empowered side. Texture is introduced to my collection in the form of knit, to balance the modernist lines. I will aim my key market towards the retail company COS, aiming for an A/W RTW Woman's Wear 2013 collection.
The white wool crepe jumpsuit is a key piece of the collection, as the elongated lines create height and visual impact, emphasizing my inspiration of modernist buildings. The jumpsuit plays a key role standing tall against the rest of the collection, portraying stature yet showing elegance."
Object Number
: ABDRG2013.54.1