Objects
Viewing Record 2074 of 2859
Previous Record
Next Record
Switch Views:
Lightbox
|
Image List
|
List
Untitled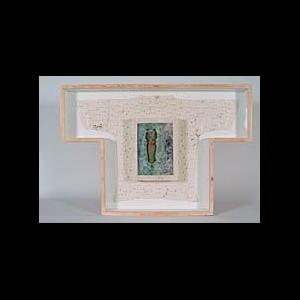 Collection
: Gray's School of Art Collection
Object Type
: Fine Art: Construction
Artist/Maker
: Gudrun Sejersen, Anne
Date
: 1999
Media/Materials
: Mixed media including t-shirt
Dimensions
: 124 x 85.8 cm
Classification
: Composition
Description:
Three dimensional box construction containing a T-shirt, points and abstract imagery. Purchased by the Robert Gordon University.
This work was about the feeling of loss and trying to find balance. It was inspired by a diagnosis of Type 1 Diabetes. When untreated Diabetes makes the skin dry and the plaster surface of the composition with it's cracks is like soil lacking water . The artist also included needles from insulin syringes which were used in the daily treatment to achieve a stable blood sugar. Numbers on chocolate silver paper wrapping inside the box represent the varying blood sugar measurements whilst the paper doll dress represents childhood memories of uncomplicated days. Her mother would draw her paper dolls and Anne would draw the clothes. The particular dress was collected when her mother was a child and it also featured in an advertisement for sweet biscuits. The artist ate the particular biscuits as a kid with friends every Friday with hot chocolate. They were not nutritious. The inclusion of the T shirt was a reference to an everyday garment. Somethings take place every day. Diabetes is everyday and it never stops. A balance must be found
- sugar is what saves me and what makes me is ill at the same time.
Object Number
: ABDRG10169