Objects
Viewing Record 1575 of 2858
Previous Record
Next Record
Switch Views:
Lightbox
|
Image List
|
List
Untitled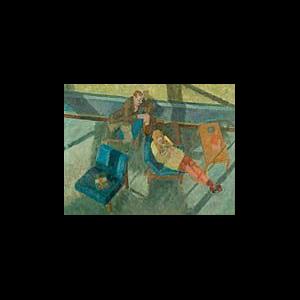 Collection
: Gray's School of Art Collection
Object Type
: Painting: Interior with Figures
Artist/Maker
: Bryceland, Philip
Date
: 1969
Media/Materials
: Oil on board
Dimensions
: 89.9 cm x 69.9 cm
Classification
: Painting
Description:
Oblique view of a male and a female sitting on blue chairs.
Artist's statement:

This is a scene from the central staircase inGray's School of Art where students lounged/milled about or arranged to meet. I was intrigued by the strong south light which created geometric patterns and cast shadows from the large window frames.
Surprisingly I had not heard of Edward Hopper at this time. Subsequently I have been intrigued by his portrayal of figures - quite often apparently lonely - in public spaces. In this painting I remember finding it difficult to work in a subdued, disciplined manner as my natural inclination was for more vibrant colour and brushwork at that time. In the late 60s we were discouraged from working from photographs and this work would have been developed from a series of drawings.
Object Number
: ABDRG415