Objects
Viewing Record 10 of 306
Previous Record
Next Record
Switch Views:
Lightbox
|
Image List
|
List
A Cycle Of Pattern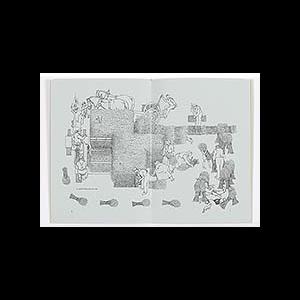 Collection
: Gray's School of Art Collection; Gray's School of Art Design Collection
Object Type
: Graphic Design: Book
Artist/Maker
: Shearer, Charles
Date
: 1979-1980
Dimensions
: overall: 29.5 cm x 21 cm
Description:
A 12 page booklet featuring an illustration of a scarecrow on the front cover and with agricultural scenes and farm equiipment inside. Includes illustrations of wooden harrow, a ridge plough, a typical Orkney harvest scene, a single-row seed sower, a fiddle sower and a hay rake. The colour of the cover is light grey.

Introduction

Artists statement.
My intention in producing this book is not to give a history of the agricultural machine, but to illustrate from personal choice those which convey simplicity and beauty in design. Teh period covered is pre-tractor, when horse and ox were harnessed for their power. Thus harnessed, their actions on the soil or in the crops produced a series of visual patterns: the uniformity of the ploughed field as the share folds the turf into regular furrows; the oats cut by the reaper upon the harvest field.

Patterns too in the rural calendar, dictated by the changing seasons; the cultivation of soil in preparation for seed; the sowing of seed; the harvest. With this in mind the illustrations are laid out, each season bringing into action its different implements and work.
Object Number
: ABDRG2012.568
Related Media