Objects
Gran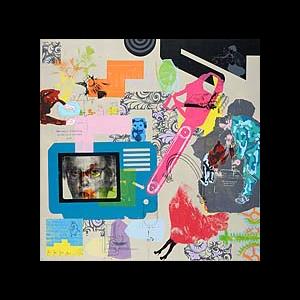 Collection
: Gray's School of Art Collection
Object Type
: Print
Artist/Maker
: Daly, Kendal
Date
: 2008
Media/Materials
: ink on board
Dimensions
: overall: 91.5 cm x 91.4 cm x .6 cm
Awards
: RGU Printmaking Purchase Award 2008; BP Fine Art Award 2008 - Commended
Description:
Composition featuring the silhouette of a chain saw and other juxtaposed imagery.
Artist's statement:
"The content of my work deals with visualising humorous stories/narratives. I deal with ironic and playful themes throughout my work. The imagery is emblematic throughout and deals with everyday icons juxtaposed into intriguing compositions.
I enjoy mixing colour areas with line. My work to date is a combination of hand manipulation and photomechanical processes.
The works are neither painterly or prints but objects in their own right. I compose small units to make bigger statements, narratives working against each other.
Solutions of my work are frequently revised and revisited until a balance in each piece is met.
My work constantly challenges imagery, colour, language and content. I also like to experiment with a broad range of possible media including glass and wood."
Object Number
: ABDRG2008.2