Objects
Five Shark's Teeth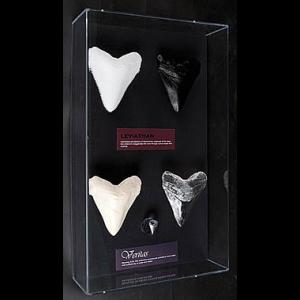 Collection
: Gray's School of Art Collection; Gray's School of Art Design Collection
Object Type
: Three Dimensional Design
Artist/Maker
: Veera, Ben
Place Made
: United Kingdom: Aberdeenshire, Gray's School of Art
Date
: 2010
Media/Materials
: acrylic, metal; glass; perspex
Dimensions
: overall: 10 cm x 50 cm x 30 cm
Awards
: RGU Three Dimensional Design Purchase Award
Classification
: Design: Three Dimensional Design B Des
Description:
Perspex case containing line of three variously sized sharks teeth modelled separately in ivory colur acrylic, silver colur metal and colourless glass, entitled "Veritas" and a line of two (one black, one white) shark's teeth entitled "Leviathan", with further text.. A self published book entitled "Amplifying the Real" written by Ben Veera and printed by Blurb.com accompanies the case Degree Show Purchase Prize 2010
Towards the end of 1987, RGU was consumed by the news of a shark swimming in the River Dee. The shark was believed to be dangerous and was thus speedily captured by the SSPCA, who thought it kinder to put the shark to sleep. Its body was donated to various departments throughout RGU for research.
Nothing of the shark was thought to have been wasted and even the meat was served in assorted stews and broths in the canteens during the so-called "shark week". These revolutionary recipes launched Aberdeen as the pinnacle of an emerging shark meat haute cuisine trend, one that was particularly enjoyed by the wealthy oil barons. This in turn put RGU on the map and it became renowned for its hospitality courses.
Ben Veera, an artist from Gray's School of Art, was commissioned to make a piece of work to commemorate the animal. By focusing on the shark's teeth, Veera acknowledged the importance of the shark cuisine trend to RGU as well as the shark itself.
This event was creatively documented. If you would like to know more information please (don't) check the Library Archives.
Object Number
: ABDRG2010.507
Related Objects