Objects
Interactive Punctuation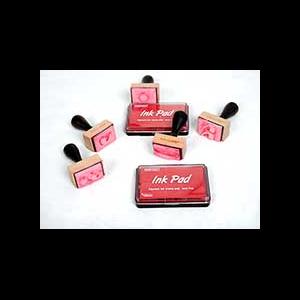 Collection
: Gray's School of Art Collection; Gray's School of Art Design Collection
Object Type
: Graphic Design
Artist/Maker
: Wilmott, Sarah
Place Made
: United Kingdom: Aberdeenshire, Gray's School of Art
Date
: 2012
Media/Materials
: wood, rubber, plastic, textile
Awards
: RGU Visual Communications Purchase Award
Description:
A set of 5 rubber and black wood hand stamps for punctuation marks such as full stop, bracket, semi colon, comma, double inverted commas.
Each inscribed with maker's name 'InksentialsTM', and two red inkpads inscribed with makers name 'Hobbycraft'
Artist's statement:
'Confusion and clutter are the failure of design, not the attributes of information' Edward R Tufte
"My Honours Year project focuses around the idea of punctuation. Punctuation goes hand in hand with the written word. It is used to structure and separate sentences and their elements to clarify meaning. But are punctuation marks taken for granted?
Punctuation is seen to enhance words as the word takes precedence. If the written word is removed what happens to the punctuation? Can it be understood or can it become something other than marks on a page?"
Object Number
: ABDRG2012.56.2
Related Objects