Objects
Mare Machines Sketchbook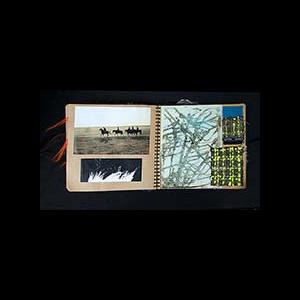 Collection
: Gray's School of Art Collection; Gray's School of Art Design Collection
Object Type
: Visual Diary
Artist/Maker
: Duncan, Ashley
Place Made
: United Kingdom: Aberdeenshire, Gray's School of Art
Date
: 2012
Media/Materials
: cardboard
Dimensions
: overall: 30 cm x 30 cm
Awards
: RGU Fashion Design Purchase Award
Description:
36 page brown card 'scrapbook' containing photographs, postcards, swatches, samples and text on the subject of women's riding habits and fashion.

(See also ABDRG2012.59.1)
Artist's statement:
'Humans are enslaved like horses and horses are made into machines'.
While being loosely based around this quote from 'Black Beauty', 19th century riding habits juxtaposed with the contemporary sport of endurance riding creates the basis of my inspiration. By incorporating land maps mixed with costumes and fashion from the Victorian era, my collection has a timeless hour-glass silhouette together with flowing drapes and flattering tailoring. Using a range of lavish fabrics, from tweeds to quality leathers, has given the garments a sense of classic luxury. Semi-plan cloths and daring colour highlight the woven patters and create an exciting mix of textures and an essentially feminine statement."
Object Number
: ABDRG2012.59.2
Related Objects